Somebody stop me
You might notice that my "In the Queue" section to the right lists "socks galore" as upcoming projects. This will give you an idea of what I'm talking about...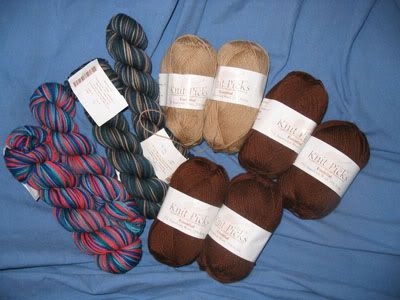 Enough for 5 pairs of socks (that's 10 socks, for those of you keeping score at home). Plus the 4 hanks of Lorna's Laces (see post below) for 2 more pairs, AND the natural-colored Lorna's Laces I just bought. Hmmmm, that's like...8 pairs of socks. Oh yes, children, I am insane/obsessed/broke. But it's all in good fun. And too bad I just found the
Simply Sock Yarn Company
online. Must feed the beast! And possibly get a second job.
Last night at
SnB
I got halfway through the armholes on the back of the
Ballerina Wrap Top
. It's cute! I hope I don't run out of yarn, because that defeats the purpose of using stash yarn. I also started the second Gull Wing sock.
Here are some funny pictures for your enjoyment.
Future knitter? I think so!