Socky
At
Stitch n Bitch
last night, I finished this: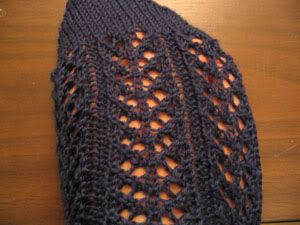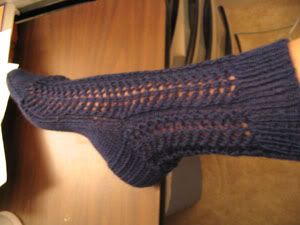 It's the first Gull Wing sock. I like it! It's 2 rows of lace repeated over and over, with knit rows in between. Easy! I am definitely loving the socks - they're easy, they look impressive, and they're quick. My kind of knit!
Crumpets is done - she became more of a shirt than a dress. I just need to put some elastic in the bodice and measure the straps, and it will be done, hopefully tonight. I'll take some pictures and have them soon. It's a cute pattern - we'll see how practical the shirt is.
All these FO's give me room to cast on for something else - I think it will be the
Plum Shrug
. It looks pretty quick and easy, although I think I'll have to do some adjusting to get it to fit the way I want it to. We'll see.