Sitcom Chic-y-ness
Just in time, a new Sitcom Chic is done:
"Just in time?" you ask. Well, my well-worn original Sitcom Chic has sprung a leak:
We had an unwelcome visitor the other day - a bird made its way into our dryer vent, and all the way up the pipe to the dryer itself. We thought it was a mouse, so we called our Orkin guy, who sprays for critters a few times a year at our house anyway. Poor guy pulled the dryer away from the wall, and out flew a bird!! He managed to catch it in a box and released it outside...we thought that was that, but the next morning, around 7AM, we heard flapping. Thinking the bird was back in the vent, Chris went to check it out. Unfortunately, the Orkin guy didn't quite get the dryer pipe back into the dryer, so the stupid bird flew back through the vent, up the pipe, and right out into the house. We found him flapping around the dining room, trying to get out the window. Chris caught him in a sheet and tossed him outside. He hasn't been back since, so hopefully twice was enough for him.
Now some pictures!
We had an Easter egg hunt in our neighborhood over Easter...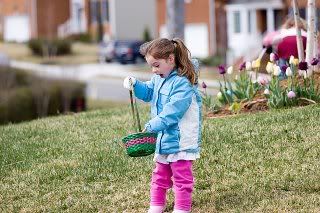 Andra makes funny faces: