The white spot
Just for you Dad, socks with the white spot.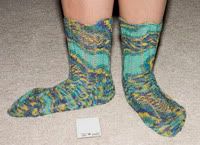 What the hell is this, you ask? Apparently it helps balance color (or something) if you first take a picture of a white spot, then take your real picture. So, my dad has all these pictures of people posing with this white card, before they had their picture taken. I think it's going to be like
Stephanie's
traveling sock, or the
roaming gnome
. I don't know that it will become quite as famous as those two, but now the whole 5 people who read my blog will know. And knowing is half the battle. Go Joe!