You'd think...
...that with all this "not working" and stuff, I'd blog a little more. Apparently not. So what the heck have I been up to?
It was Ainsley's birthday on Monday - she's 4 now, and she'll tell you all about it. She got a hat at school and a new birthday shirt...
She's a princess for sure. Here's the other princess...
Looking a little more awake than in previous pictures.
Some knitting, as this is supposedly a knitting blog - completed Fleece Artist socks: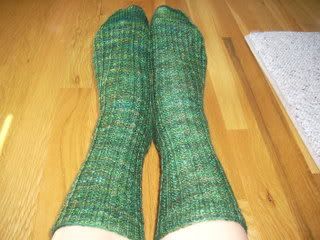 And I have decided to become a farmer: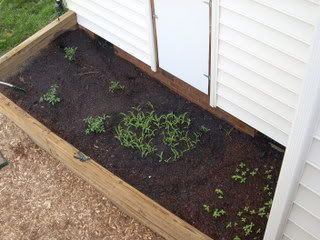 From left to right: Tomatoes, corn, sunflowers. Yum! (Maybe not so much the sunflowers.)
I've started my Sockapalooza socks - I'm using Cherry Tree Hill from last year's Sheep and Wool in the
Pomatomus
pattern from Knitty. I've done these before, and I just love the pattern. Cherry Tree Hill is pretty nice too! I should finish the first one pretty soon, well in time for my next post (meaning two weeks from now, as I am incapable of posting any more regularly).