Bub stuff
More baby stuff! I'm done now though...my mom yelled at me because she doesn't think the baby will need any more handknits. Um, seriously? Babies get changed like 10 times a day, so I think we're still short a few...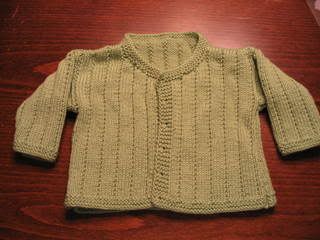 Debbie Bliss Ruffle Edge Cardigan sans Ruffled Edges. I couldn't find any ruffles that were small enough to put on this sweater, and it doesn't really need them anyway. It does need buttons though, which I will put on...eventually. The color didn't come out well in this picture - it's a nice light green, but not mint.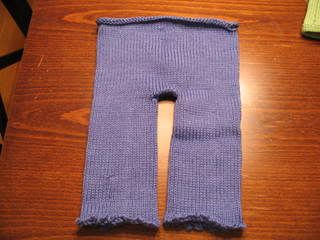 Baby Drawstring Pants from Last Minute Knitted Gifts sans Drawstring. When I see how big the kiddo's waist will be when she's big enough to fit into these pants, I'll put in elastic and sew the waistband over. The legs have picot edging, which keeps sticking up. It's not cute when the pants are lying on the kitchen table, but would probably be cute on a baby.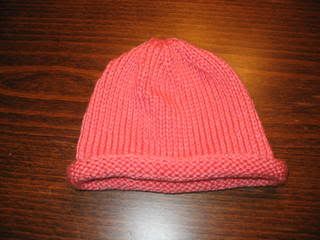 Hat for neighbor baby. It's coral, but looks kind of orange in the picture. Perhaps I should stop taking pictures at night on my kitchen table.
I also finished the second Cable and Rib sock from Interweave, but neglected to take a picture of the pair. So, imagine two of these...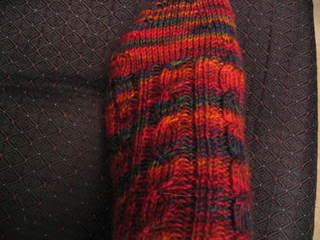 Now I started a lacy pattern from Sentational Knitted Socks in Fleece Artist (yummy!) and another
Sitcom Chic
in, you guessed it, KnitPicks Shine Worsted. I'm not sure how this will work, because the Shine tends to grow in a larger garment, so we'll see.