Here, froggy froggy!
After completing one sock and getting partway down the leg of another, I decided to frog the green Fleece Artist socks. They were just too big. And Fleece Artist is too nice to make socks that are too big. And I was pretty sure I would run out of yarn.
So, they're morphing into these: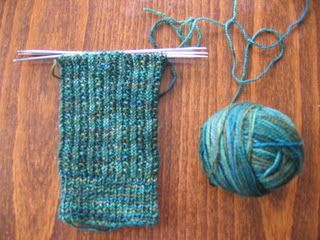 I'd like to get these finished so I can finish the Tofutsies socks, and THEN I can work on
Sockapalooza
pal socks! I think I'm going to use Cherry Tree Hill, but I'm not 100% yet.
My sock pal asked about pattern/yarn preferences...After accidentally felting a pair of socks last night, I'd prefer machine washable socks! I like bright colors and solids. As for patterns, I'd prefer something with about an 8" leg. After that, go wild!
After finishing one Sitcom Chic, I started another. This one is in the new KnitPicks
CotLin
in Island Coral. I really like the feel of this yarn - it looks like it will have a nice drape and really work for summer sweaters. And, it's $2.49 a ball.
Cute kids pictures...