Ballerina Wrap sweater, a duck and a piano
While waiting for my piano to be delivered yesterday, I finished this: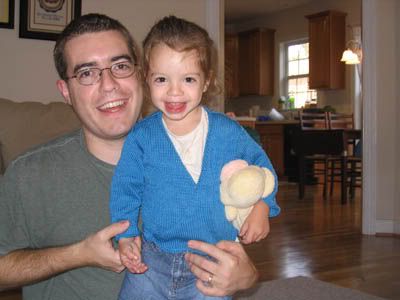 Dancing Shot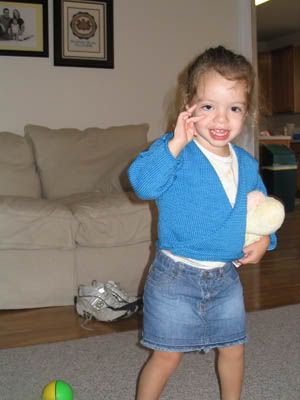 Just because she's cute...
The only way I could get her to pose was if she could hold the duck, stand with De-Da, and watch Miffy afterwards.
Details:
Ballerina Wrap Sweater from Adorable Knits for Tots, by Zoe Mellor. Size 2-4 years. Knit using size 3 circulars and 3 1/2 balls Endless Summer Lara yarn in Azure (stash). No changes to pattern, but as you can see, it's almost too small. I need to remember the kid is tall, and make her stuff an inch or two longer! I used snaps to secure the wrap instead of a ribbon.
My piano is here! I had it moved from my parents' house in Pittsburgh. Ainsley checks it out:
I played it a little last night - it needs to be tuned pretty badly. Of course, it's been a while since I've played, so I didn't sound great either...