Nifty Swifty
Thanks to
Monica's
fortuitous 50% off coupon from
Joann Fabrics
, I will in 7-10 days be the proud owner of this: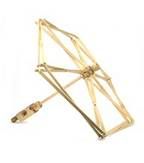 A swift! I already have a ball winder, so my gear for unhanking hanks will be complete. If I were smart, I would have gotten the swift first, because that's really the hard part. But, I am not smart.
Last night I finished the other sleeve to the ballerina wrap top, sewed the shoulder seams, and picked up ALL 224 STITCHES around the front. I'll bind off today and finish the finishing (haha), a little spritz blocking and voila! Crap, though, I need ribbon. I see a quick Michael's run tonight.