Happy New Year!
My new year's resolution should be to blog more, but I know I won't, so why bother? And I don't believe in new year's resolutions...
Here's a better one - knit stuff that fits! Like this: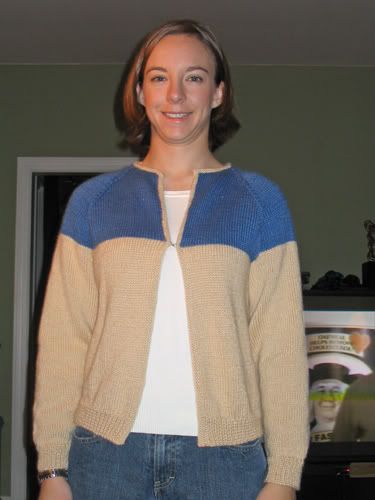 ChicKnits Eyelet Cardi - KnitPicks Elegance in oatmeal and cornflower. Bonne Marie always comes through for me. I lengthened the sleeves, and omitted the eyelets. The color change is done when the sleeves are joined to the body. Hip hip hooray for sweaters that fit!
I'm also working on the
Wild Stripes
baby blanket from knitty. It's pretty cool. And I'm about halfway done with the first Embossed Leaves sock from Interweave. Fun knits galore! Out with the drab, in with the fab!