Peek a boo
Here are some picture-in-the-mirror shots of my Adrienne V sweater: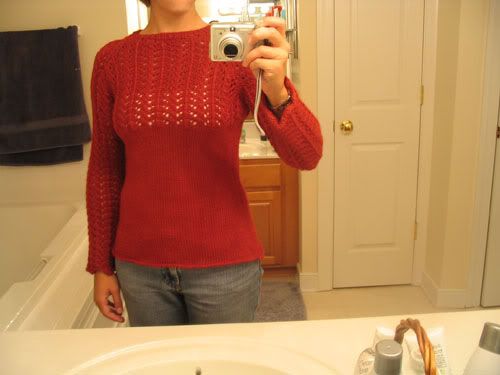 Stand like a model shot: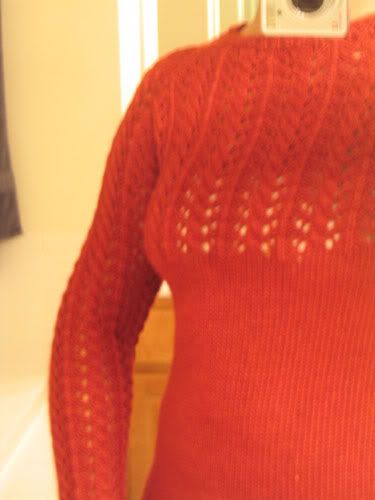 As you can see, a white cami is not a good option for under this sweater. I ordered a nude colored leotard online, so that should work, in addition to providing a barrier between my skin and the just-itchy-enough-to-drive-me-nuts sweater.
I made some progress on the ChicKnits Eyelet Cardi - I'm using KnitPicks Elegance, and I love this yarn. It's so soft, and knits nicely. I also did a few inches on the cable socks.
I finally got around to putting doors on our media hole. The doors have been sitting in a closet for about 2 months now. Of course, there are design flaws in anything I do. For instance, the doors only open about halfway, because there is moulding on the bottom of the media hole, prohibiting the doors from opening. Genious. So, I'll need to get a chisel and take the moulding out, which is probably easier said than done.
Take a look at this picture: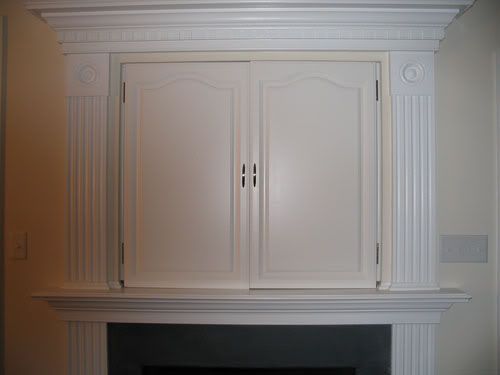 Do those doors look straight to you? Me neither. The left hand one is crooked, causing it to scrape on the bottom (in addition to not opening all the way). So, I'm hoping I can just loosen the screws on the hinges, and tilt it a little the other way, tighten them up and all will be well.
But dammit, you can't see all the crap behind the doors, so that has to be an improvement. And I got to use power tools, so that was good.