I am thankful for socks
Or, I'm thankful that I'm not insane after knitting so many socks. I finished the first cable and rib sock, and am now halfway down the leg of the other one.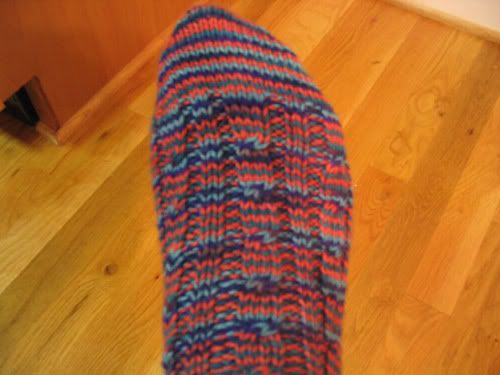 I tried to take a picture of the whole sock, but I must have had too many mint M&M's and the sugar hit me, because the picture came out all fuzzy. If you've never had mint M&M's, YOU MUST GO BUY SOME RIGHT NOW. THIS VERY MINUTE. RIGHT NOW!!!!!!
I'd give you some, but I only have 4 spare bags hidden in my cabinet. Which Chris found today, and he lauged at me a lot. And then he ate some of them. And then he mysteriously disappeared...
I'm pretty thankful for mint M&M's too.
Happy Thanksgiving everyone!