Ribby is almost done! She's all seamed and just needs a zipper, which I will hopefully purchase today at lunch. Hooray!
I also finished the Magic Stripes socks, and sent them to my mom.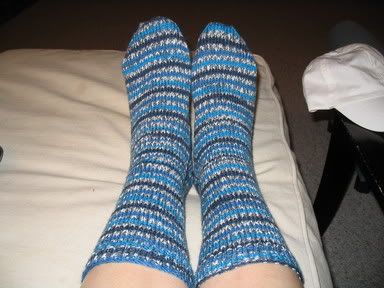 AND, I finished the angora baby sweater for my neighbor-baby who is being born TODAY! I had a picture, but I deleted it from my online photo album by accident. Trust me, it's cute.


So, with all that, what am I working on? Too much. I still refuse to touch the goldfish sweater because it makes me want to cry whenever I see it. The Xback tank is such a pain to knit that I keep finding other things to work on. And the Adrienne V sweater is so pretty, but I can't wear it for another few months, so why work on it now?

What is a girl to do? Start another pair of socks, that's what! I started the Broadrippe socks from Knitty last night. I also got some navy blue sock yarn from Holly Spring Homespun only to find out that Chris doesn't ever wear navy blue socks. Hmmm. So they may end up as socks for me instead.