Stitch n Bitch Tuesday
Last night was
Stitch n Bitch
. I haven't been for a few weeks due to travel and sickness, so it was good to see the knitterly friends again. I got down to the heel on the
Pomatomus
socks and then switched over to the Moderne Blue Baby Blanket. Good times were had by all, including when
Suzanne
put a hank of mohair on her head like hair. No picture - use your imagination. Love ya Suzanne!
Growing Pomatomus...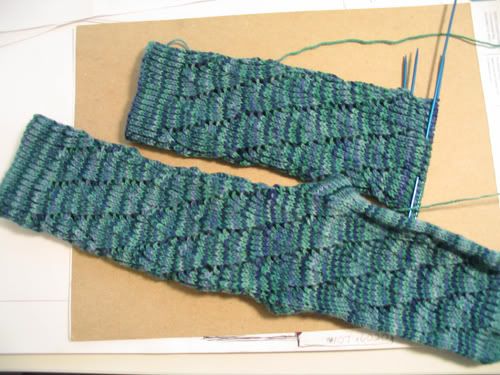 I also enjoyed fondling (don't snicker, if you like yarn, you do it too) some
Socks That Rock
. That's some good stuff. I finaly caved and bought some...
Farmhouse
and the ever-popular
Seal Rock
. Yum! I need more sock yarn like I need a hole in the head, but I guess if I have a hole in my head I can stuff it with some nice warm Socks That Rock.