Gigi
is done! This was a very easy project - knit in the round using
KnitPicks Merino DK
in Storm and Vanilla. It took about 3 weeks of interrupted knitting. I made no changes to the pattern, but would probably add about an inch to the length in the future.
I also think it would be great in a cotton with short sleeves for the summer!
The headless shot: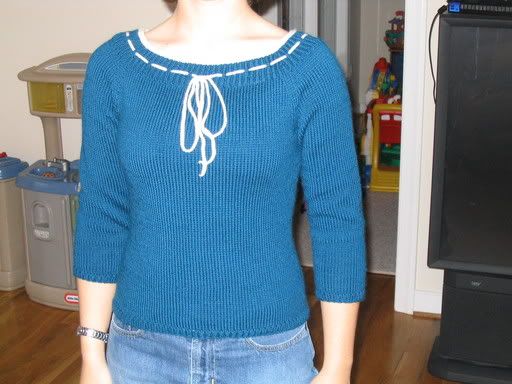 Hmmmm, I seem to be a moron. I can't get the picture to reduce and NOT have those funny squiggly lines all over the sweater. For a better pic, click
HERE
.
I'm going to try to get a natural light picture after work today, to show the color. It's a very dark blue, much darker than in this shot.
Upcoming Projects
I ordered yarn for the
Goldfish Sweater
that I'm making for my friend Julie. I decided to go with
Patons Grace from Yarn and Thread by Lisa
. I'm going to use the
T3 pattern from Knitty
and double-stitch the fish when it's done. The yarn should be here next Tuesday.
So, what do I do in the meantime? I'm almost done with the
Little Leaf Lace Scarf
, so that will be winging its way to Lisa and Jacob for the
Red Scarf Project
.
And then, because I was on a roll from ordering the Patons yarn, I also ordered
Reynolds Saucy
yarn in Sage and Steel for the
Ribby Cardi
. Whew!